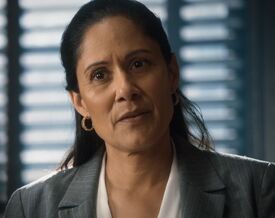 The
second season
of
Sleepy Hollow
has been pretty good so far with its various twists and turns, but as a fan of the show since Day One, there's one new wrinkle that I can't help but be obsessed over: Sleepy Hollow's new sheriff,
Leena Reyes
, played by
Sakina Jaffrey
.
We first saw Leena in the second episode of the season, "The Kindred," and she made quite an impact from the start. We learned that she's actually from Sleepy Hollow, and she was actually part of the Border Patrol in Texas before returning to the town as its sheriff, so she's a pretty tough cookie. Leena wasted no time arresting Jenny Mills when she was caught with a load of guns, and Ichabod Crane has been steering clear of her, mainly because she stated that there's no record of him and he had no identification; I say "had" because he was provided with a fake ID by Nick Hawley, or as I love to call him, "that clown."
We also learned that Leena knew Abbie and Jenny when they were kids, but we received a twist regarding that fact in the following episode, "Root of All Evil." It turns out that it was Leena's testimony that led to their mother being institutionalized at Tarrytown Psychiatric Hospital, and that was all I needed to hear to convince me of the theory that I'm about to state.
I honestly think that Leena Reyes will serve as a villainess during this current season, and I'm not the only one. I've read many online comments stating that same idea/theory. She's definitely going to plague our heroes in some diabolical fashion, but in what form? At the start, I theorized that the evil Leena could be in cahoots with Henry Parrish, at least. I also started thinking that Leena could actually be a Horseman! Remember, there are four Horsemen; we've only seen two so far: Death and War. There's still Famine and Pestilence to go. A recent theory I cooked up is that Leena could actually be an evil witch. And all of these are fathomable. I mean, think about it. She's from Sleepy Hollow, leaves for a high profile position, and then comes back just when things have become crazy, dark, and twisted?! Yeah, something's up.
I honestly hope Leena turns out to be a villainess; something about her just screams "evil." The season's young; only four episodes in. There's still a long way to go, and I have a feeling that things are going to get very interesting regarding Sleepy Hollow's new sheriff, among others.
Ad blocker interference detected!
Wikia is a free-to-use site that makes money from advertising. We have a modified experience for viewers using ad blockers

Wikia is not accessible if you've made further modifications. Remove the custom ad blocker rule(s) and the page will load as expected.