The Legend of Sleepy Hollow is a short story written by Washington Irving. It was originally included in his 1820 anthology "The Sketch Book of Geoffrey Crayon, Gent". Many themes and characters of the story were re-imagined for the TV-series Sleepy Hollow, which is set in the 21st Century.
The story
Edit
The story is set in the American countryside around 1790, in the Dutch settlement Tarry Town, and the small glen Sleepy Hollow, surrounded with ghost stories.
The main character is the superstitious schoolmaster Ichabod Crane who falls in love with Katrina, the daughter of wealthy farmer Baltus Van Tassel. After having encountered the Headless Horseman of Sleepy Hollow, Crane flees town, and Katrina ends up marrying another suitor, Brom Bones.
The story of Sleepy Hollow has been recreated in various formats since its initial publication in 1820. This oil painting that hangs in the Smithsonian Art Museum was painted in 1858 by John Quidor. It depicts the climax of the story when the
Headless Horseman
hurls his head (actually a Jack O' Lantern) at
Ichabod Crane
.
Yankee Stereotype
Edit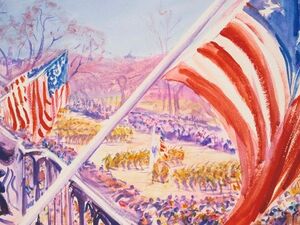 Irving and the New Yorkers viewed the New Englanders with mistrust. They believed them to be cold and calculating people interested only in money.
New Yorkers complained that they were always on the move compared to the New York society which was more rooted and conservative.
The theme of the poor native against the rich invader became common to the times. Thus the portrayal of Ichabod Crane, an outsider with a hunger for riches is representative of New York views. Ichabod's appetite is thus a metaphor for the devouring of Tarry Town's innocence, along with that of the young Katrina Van Tassel.
Art and Progress of the early 1800's
Edit
Americans of the time rejected artistic activities as unpatriotic, and there were arguments about whose standards would determine national culture.
Having recently gained their independence, Americans feared that English taste would become the norm, and thus viewed art as the product of old wealth, and social privilege.
As a result Americans viewed poetry and fiction useless, and looked upon creative writing with disdain.
Irving writings were largely responsible for changing these attitudes.
Romanticism
Edit
Science and reason were held in high regard in the United States as well as in Europe in the 1700s.
The growth of industry brought changes in society. People left their villages and started to craw cities.
As a reaction to the industrial revolution, the Romantic movement developed. The movement validated the emotional, the mysterious, and the imaginative as well as the uniqueness of personal experience.
Americans turned to the past for their national customs and origins.
Irving's Sleepy Hollow
Edit
Idealized the past.
Viewed the Dutch community as a magical, dreamy and idyllic place.
Tarry Town symbolises a colonial past of uncomplicated and pastoral atmosphere.
Film adaptions
Edit
The Legend of Sleepy Hollow maintained its popularity as a story into the age of movies and television. Some of the notable film and television adaptations inclue