Mary Wells was the Weeping Lady of Sleepy Hollow and the former lover of Ichabod Crane. After confronting Katrina Crane out of jealously and accidently plummeting to her death, she became a vengeful spirit that would haunt the site of her demise for more than two centuries.
Pre-series
Edit
Mary was Ichabod Crane's former fiancee. She came to take Ichabod back to England. She was very emotional and possessive. Mary disliked Katrina Crane upon their meeting because she thought that Katrina was trying to steal Ichabod, despite her being engaged to Abraham Van Brunt. Mary confronted Katrina about her seduction of Ichabod Crane before she left. When she was going to attack Katrina, she fell to her death off a cliff near the river. Her ghost, also known as The Weeping Lady, would haunt Sleepy Hollow for over 200 years after her death.
After being summoned by Jeremy Crane, The Weeping Lady's first victim is Caroline, a seamstress and reenactment actress, targeted because of her friendship with Ichabod. Mary was thwarted in her attempt to drown Abbie Mills and Katrina, as they both escaped from her.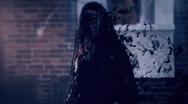 Her spirit form her eyes are glowing green and she wears a long black veil. At the end of the episode, Ichabod feels that Katrina may have caused Mary's death because she never told him.
Appearances
Edit
Season Two

"This Is War"
"The Kindred"
"Root of All Evil"
"Go Where I Send Thee..."
"The Weeping Lady"
"And the Abyss Gazes Back"
"Deliverance"
"Heartless"
"Mama"
"Magnum Opus"
"The Akeda"
"Paradise Lost"
"Pittura Infamante"
"Kali Yuga"
"Spellcaster"
"What Lies Beneath"
"Awakening"
"Tempus Fugit"
References
Edit
Ad blocker interference detected!
Wikia is a free-to-use site that makes money from advertising. We have a modified experience for viewers using ad blockers

Wikia is not accessible if you've made further modifications. Remove the custom ad blocker rule(s) and the page will load as expected.