List of Sleepy Hollow episodes
Talk

0
287pages on
this wiki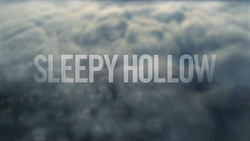 The following is a list of episodes for the supernatural series, Sleepy Hollow. Season one of "Sleepy Hollow" was ordered on May 8, 2013. The series premiered September 16, 2013.
Episodes
Edit
Image
Title
Original air date
Season #
Series #

"Pilot"
September 16, 2013
1
1
After being resurrected, Ichabod Crane finds himself in modern-day Sleepy Hollow, where evil has awoken with him. Ichabod forms an unlikely bond with detective Abbie Mills, a young cop who has her own childhood supernatural experiences. Together, the two embark on a mission to stop evil and uncover mysteries dating back to the founding of their country.

"Blood Moon"
September 23, 2013
2
2
Andy Brooks is tasked to resurrect Serilda of Abaddon, the high priestess of a dark coven, who had been captured and sentenced to death. Burned at the stake, Serilda has until the turn of the blood moon to obtain the ashes of the descendants of the men who killed her.

"For the Triumph of Evil..."
September 30, 2013
3
3
A rare case of suicides are going around Sleepy Hollow. One of the victims shoots himself during a police siege, but not before telling Abbie that she will be the next victim of the Sandman. With the help of a Mohawk shaman, Abbie and Ichabod undergo a ritual to enter the dream world of the Sandman, where Abbie must atone for her past actions.

"The Lesser Key of Solomon"
October 7, 2013
4
4
Ichabod helps Abbie search for her sister Jenny, who has escaped from a mental institute. In the meantime, they discover more about the evil force they're up against and finally learn its name.

"John Doe"
October 14, 2013
5
5
When an unidentified boy is discovered in Sleepy Hollow, Ichabod and Abbie are called to the scene. After speaking with the child, they realize that a deadly plague is afoot and the duo go on a hunt to discover his home and origins, and are shocked by what they find.

"The Sin Eater"
November 4, 2013
6
6
When Ichabod goes missing, his wife, Katrina, contacts Abbie in a vision, forewarning of the evil to return to Sleepy Hollow by nightfall. Abbie seeks help from the mysterious Henry Parish, who holds vital clues on how he can vanquish Crane's blood tie to the Headless Horseman. Meanwhile, an encounter from Crane's past weighs heavily on him.

"The Midnight Ride"
November 11, 2013
7
7
Abbie and Ichabod must find hidden clues to thwart the evil in Sleepy Hollow and Abbie gets an unexpected visit from the enigmatic Andy Brooks.

"Necromancer"
November 18, 2013
8
8
Ichabod, Abbie, Captain Irving, and Jenny join forces and face the Headless Horseman. While staring down his nemesis, Ichabod is shocked by game changing information about the Horseman's true motive and identity.

"Sanctuary"
November 25, 2013
9
9
When Ichabod and Abbie investigate a missing persons case, the search leads to a colonial-era house which holds secrets from Ichabod's past and unleashes a long dormant evil.

"The Golem"
December 9, 2013
10
10
Ichabod needs Henry's help to communicate with Katrina, but their contact releases a monster from Purgatory.

"The Vessel"
January 13, 2014
11
11
Captain Irving's daughter is targeted by evil forces, so he pleads for help from Crane and Mills, and looks to Washington's bible for answers. However, another frightening chapter of Jenny's past is revealed.

"The Indispensable Man"
January 20, 2014
12
12
Ichabod and Abbie learn of a map of Purgatory that is buried with Washington's body and enlist the assistance of Henry. Meanwhile, after failing to get Abbie to hand over the map, Andy offers himself to Moloch and is transformed into a demon and attacks Ichabod and Abbie while in Washington's tomb. After understanding how dangerous the map is, Ichabod is prompted to dispose of it.

"Bad Blood"
January 20, 2014
13
13
Ichabod and Abbie reach Purgatory to save Katrina in time, but it turns out that Katrina can't leave without a soul taking her place. Meanwhile, Jenny discovers a shocking secret, and she tries to reach the Witnesses in time.
Image
Title
Original air date
Season #
Series #

"This Is War"
September 22, 2014
1
14
Ichabod returns to Purgatory with the help of Jenny.

"The Kindred"
September 29, 2014
2
15
Ichabod and Abbie venture to find a creature to match the Horseman's power. They only need the Headless Horseman's head to complete their quest. Meanwhile, Jeremy deceives Frank.

"Root of All Evil"
October 6, 2014
3
16
Jeremy uses a strange coin to cause havoc all over Sleepy Hollow, and Jenny is one of his victims.

"Go Where I Send Thee..."
October 13, 2014
4
17
A young girl mysteriously goes missing and Abbie goes on the case to search for her with the help of Ichabod. The search leads to a major clue, implying that they're dealing with something supernatural.

"The Weeping Lady"
October 20, 2014
5
18
A person from Ichabod's past returns for revenge. However, the women involved in his life are the ones suffering.

"And the Abyss Gazes Back"
October 27, 2014
6
19
Joe, August's son, returns to Sleepy Hollow, but with some bitter feelings towards Abbie and a big secret.

"Deliverance"
November 3, 2014
7
20
After having something put in her by Jeremy, Katrina seeks help from both Ichabod and Abbie who eventually discover that Katrina is pregnant with a demon, Moloch. Ichabod goes by all means to prevent the birth or else she could die.

"Heartless"
November 10, 2014
8
21
Regardless of stopping Moloch birth, Jeremy creates a Succubus for Moloch's personal gain.

"Mama"
November 17, 2014
9
22
After years without their mother, Abbie and Jenny finally get a visit from her, but at Tarrytown Psychiatric Hospital

"Magnum Opus"
November 24, 2014
10
23
Abbie and Ichabod both learn from Grace's diary that there is a sword powerful enough to defeat demons and, possibly, Moloch. So they both set off to find it.

"The Akeda"
November 24, 2014
11
24
Moloch takes his full form and continues to fulfill The End of Days, but the Witnesses and their allies aren't going down without a fight.
"Paradise Lost"
January 5, 2015
12
25
Six weeks after their battle with Moloch, the Witnesses meet an angel named Orion who seeks to defeat the Headless Horseman, but Katrina thinks otherwise.
"Pittura Infamante"
TBA
13
26
TBA
"Kali Yuga"
TBA
14
27
TBA
"Spellcaster"
TBA
15
28
TBA
"Cube 3"
TBA
16
29
TBA
"A Separate Peace"
TBA
17
30
TBA
"Tempus Fugit"
TBA
18
31
TBA
The last two episodes of the first season make up the season finale.