List of Sleepy Hollow episodes
Talk

0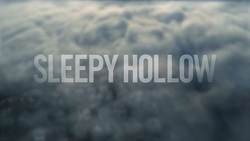 The following is a list of episodes for the supernatural series, Sleepy Hollow. Season one of "Sleepy Hollow" was ordered on May 8, 2013. The series premiered September 16, 2013.
Episodes
Edit
Image
Title
Original air date
Season #
Series #

"Pilot"
September 16, 2013
1
1
After being resurrected, Ichabod Crane finds himself in modern-day Sleepy Hollow, where evil has awoken with him. Ichabod forms an unlikely bond with detective Abbie Mills, a young cop who has her own childhood supernatural experiences. Together, the two embark on a mission to stop evil and uncover mysteries dating back to the founding of their country.

"Blood Moon"
September 23, 2013
2
2
Andy Brooks is tasked to resurrect Serilda of Abaddon, the high priestess of a dark coven, who had been captured and sentenced to death. Burned at the stake, Serilda has until the turn of the blood moon to obtain the ashes of the descendants of the men who killed her.

"For the Triumph of Evil..."
September 30, 2013
3
3
A rare case of suicides are going around Sleepy Hollow. One of the victims shoots himself during a police siege, but not before telling Abbie that she will be the next victim of the Sandman. With the help of a Mohawk shaman, Abbie and Ichabod undergo a ritual to enter the dream world of the Sandman, where Abbie must atone for her past actions.

"The Lesser Key of Solomon"
October 7, 2013
4
4
Ichabod helps Abbie search for her sister Jenny, who has escaped from a mental institute. In the meantime, they discover more about the evil force they're up against and finally learn its name.

"John Doe"
October 14, 2013
5
5
When an unidentified boy is discovered in Sleepy Hollow, Ichabod and Abbie are called to the scene. After speaking with the child, they realize that a deadly plague is afoot and the duo go on a hunt to discover his home and origins, and are shocked by what they find.

"The Sin Eater"
November 4, 2013
6
6
When Ichabod goes missing, his wife, Katrina, contacts Abbie in a vision, forewarning of the evil to return to Sleepy Hollow by nightfall. Abbie seeks help from the mysterious Henry Parish, who holds vital clues on how he can vanquish Crane's blood tie to the Headless Horseman. Meanwhile, an encounter from Crane's past weighs heavily on him.

"The Midnight Ride"
November 11, 2013
7
7
Abbie and Ichabod must find hidden clues to thwart the evil in Sleepy Hollow and Abbie gets an unexpected visit from the enigmatic Andy Brooks.

"Necromancer"
November 18, 2013
8
8
Ichabod, Abbie, Captain Irving, and Jenny join forces and face the Headless Horseman. While staring down his nemesis, Ichabod is shocked by game changing information about the Horseman's true motive and identity.

"Sanctuary"
November 25, 2013
9
9
When Ichabod and Abbie investigate a missing persons case, the search leads to a colonial-era house which holds secrets from Ichabod's past and unleashes a long dormant evil.

"The Golem"
December 9, 2013
10
10
Ichabod needs Henry's help to communicate with Katrina, but their contact releases a monster from Purgatory.

"The Vessel"
January 13, 2014
11
11
Captain Irving's daughter is targeted by evil forces, so he pleads for help from Crane and Mills, and looks to Washington's bible for answers. However, another frightening chapter of Jenny's past is revealed.

"The Indispensable Man"
January 20, 2014
12
12
Ichabod and Abbie learn of a map of Purgatory that is buried with Washington's body and enlist the assistance of Henry. Meanwhile, after failing to get Abbie to hand over the map, Andy offers himself to Moloch and is transformed into a demon and attacks Ichabod and Abbie while in Washington's tomb. After understanding how dangerous the map is, Ichabod is prompted to dispose of it.

"Bad Blood"
January 20, 2014
13
13
Ichabod and Abbie reach Purgatory to save Katrina in time, but it turns out that Katrina can't leave without a soul taking her place. Meanwhile, Jenny discovers a shocking secret, and she tries to reach the Witnesses in time.
Image
Title
Original air date
Season #
Series #

"This Is War"
September 22, 2014
1
14
With Ichabod buried alive and Abbie trapped in Purgatory, Ichabod's son, the Horseman of War, has free reign over Sleepy Hollow... and soon, the world.

"The Kindred"
September 29, 2014
2
15
To defeat the Horseman, Ichabod and Abbie seek out a patchwork man that Franklin and the Sisterhood built to oppose Moloch's servants. Meanwhile, the new sheriff arrests Jenny and Frank explains that demons killed his supposed murder victims.

"Root of All Evil"
October 6, 2014
3
16
Ichabod and Abbie discover that Henry is trying to spread a curse of violence, unleashing the darkness in individuals so that they kill. Meanwhile, Jenny discovers who was responsible for her mother's imprisonment at Terrytown, and Frank learns the truth about his lawyer.

"Go Where I Send Thee..."
October 13, 2014
4
17
When a child in Sleepy Hollow goes missing, Ichabod and Abbie realize that a Pied Piper-like creature that serves Moloch is responsible.

"The Weeping Lady"
October 20, 2014
5
18
A ghostly spirit, the Weeping Lady, kills Ichabod's friend Caroline. After it attacks Abbie, Ichabod realizes that the ghost is going after his loved ones... and Katrina is her next intended victim.

"And the Abyss Gazes Back"
October 27, 2014
6
19
Corbin's son Joe returns from overseas after receiving an honorable discharge after his platoon is wiped out in a bizarre attack. Ichabod and Abbie soon realize that something is wrong with him. Meanwhile, Henry tells Irving that there is a way for him to free his soul, but it has a cost that Irving may not want to pay.

"Deliverance"
November 3, 2014
7
20
Henry brings in a doctor to monitor Katrina's condition after her sudden illness. She manages to escape and Ichabod finds her, and they realize that Moloch has a new plan to manifest on Earth. To stop him, Ichabod reaches out to Henry to use his powers to save his mother.

"Heartless"
November 10, 2014
8
21
Ichabod Crane and Abbie Mills search for a female demon summoned by Henry Parrish that drains its victims' lives.

"Mama"
November 17, 2014
9
22
Abbie and Jenny investigate strange suicides at Tarrytown that may be connected to their mother Lori. Meanwhile, Katrina realizes the nature of the baby and prepares to banish it back to Purgatory.

"Magnum Opus"
November 24, 2014
10
23
Ichabod and Abbie discover the existence of the Sword of Methuselah, the only weapon capable of killing Moloch. They race to find it, only to discover that Henry has learned of the weapon's existence and sent the Horseman of Death to get it first.

"The Akeda"
December 1, 2014
11
24
The End of Days draws nigh, and Ichabod and Abbie capture Abraham in the hopes of learning where they can find Moloch and Henry. However, Abraham reveals that the Sword of Methuselah can only be used at a terrible cost.
"Paradise Lost"
January 5, 2015
12
25
While questioning their purpose now that Moloch is dead, Ichabod and Abbie discover that a group of Demons have escaped from Purgatory... as has an angel, Orion. Meanwhile, Katrina offers Abraham the chance to restore his humanity.
"Pittura Infamante"
January 19, 2015
13
26
Ichabod and Katrina attend the Sleepy Hollow Historical Soiree and become embroiled in a murder. Meanwhile, Abbie receives an unexpected visit.
"Kali Yuga"
January 26, 2015
14
27
Nick's godmother, the woman who raised him after his parents died, asks for his helping stealing a mystic artifact. He reluctantly agrees, putting him at odds with Abbie, Ichabod, and Jenny. Meanwhile, Irving is cleared of the charges against him but Cynthia still has concerns.
"Spellcaster"
February 2, 2015
15
28
Solomon Kent, a warlock who set off the Salem Witch Trials to protect himself, seeks out a Grimoire that will give him the power to undo the mistake in his past that turned him into a warlock. Meanwhile, Irving approaches Abbie, while Henry contemplates his past and decides on his future.
"What Lies Beneath"
February 9, 2015
16
29
Ichabod and Abbie find a new series of tunnels beneath Sleepy Hollow and have an encounter with an old friend of Ichabod's. Meanwhile, Katrina receives a visit from Henry, and Jenny receives a visit from Irving.
"Awakening"
February 16, 2015
17
30
Ichabod and Abbie try to stop Henry's scheme to use a mystic bell to create a new cult of witches. However, they learn that he has an unexpected ally. Meanwhile, Irving comes after Jenny.
"Tempus Fugit"
February 23, 2015
18
31
Trapped in the past, Abbie tries to convince Ichabod that they are future partners while trying to stop Katrina from assuring the Horseman's victory.
The last two episodes of the first season make up the season finale.